---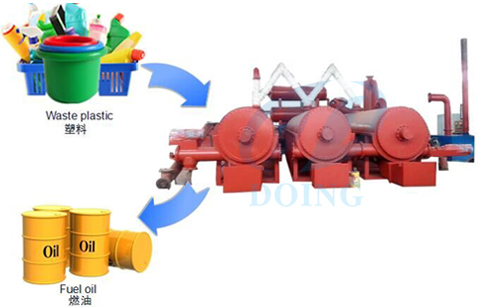 Continuous waste plastic pyrolysis plant
Doing group continuous waste plastic pyrolysis plant can process 30-50 tons of waste plastics (such as PE, PP, PS, ABS, pure white plastic, pure plastic cable, pure purchase bag etc.)per day, which can work continuously for 24 hours without a stop. In a word, the latest continuous waste plastic pyrolysis plant has the features of small size, small floor area, simple operation, less operator etc. To a large extent, the new device not only saves the operating costs, but also improves the work efficiency.


Continuous waste plastic pyrolysis plant is mainly composed of moving horizontal pyrolysis reactor, hot air circulation heating system, oil gas filter, spray cooling system, secondary fire retardant damper, strong spray de-dusting system, oil gas recycling system, feeder system, discharging system, pressure and temperature multipoint monitoring system, central electric control system. All of parts are manufactured with high-quality materials and advanced technologies, so the quality of this plant can be guaranteed.

The latest continuous waste plastic pyrolysis plant adopts the screw feeding sealing system technology, which is hold by the company's invention patents, hot air heating furnace circulating heating technology, heat drying technology with high heat exchange efficiency and capacity. Impeccable electrical control system save labor costs. Three waste utilization reasonable recovery can basically realize of zero emissions, safety and environmental protection.

(1)Before starting the pyrolysis, the plastic waste needs to be dried if the water content is too high. Then these pre-treated plastic will be conveyed to the moving horizontal pyrolysis reactor through feeder system, it starts to pyrolysis and oil gas will be generated when temperature up to 500 degrees.


Continuous waste plastic pyrolysis plant working process
Final product application of continous waste plastic pyrolysis plant

(2)Then the oil gas will be cooling down by spray cooling system, it would be liquefied and go into the oil tank. And at the same time, some un-condensed gas come into hot air circulation heating system by secondary fire retardant damper, it will be recycled for heating reactor as gas material.

(3)Exhaust gas will go to the strong spray dedusting system for removing pollution, then let environmental gas go to the air.

(4)The pyrolysis slag emissions and recycled through second sealed discharging system. And the pyrolysis gas is enough to meet the needs of this equipment self-heating in the whole pyrolysis process.

1. Plastic pyrolysis oil can be directly used as the fuel oil for ship, and it can be further classified and processed, then formation of oil products such as petrol, diesel with high benefits.

2. The pyrolysis ash can be used as ingredients for building materials.
Contact: Ms Bonnie
Phone: +86-371-5677 1821
Mobile/Wechat/Whatsapp:0086-135-2669-2320
Skype: bonniezhao2
Email: oilmachine@doinggroup.com
www.doinggroup.com
Chat online